David Arquette's return to the world of pro wrestling is documented in the new film "You Cannot Kill David Arquette" – which we got an inside look at from the people who made it.
Pro Wrestling Sheet took part in a digital Q&A this weekend with Arquette, filmmakers David Darg and Price James, Diamond Dallas Page and RJ City where the group discussed making the new documentary (currently playing in drive-in theaters and available on VOD).
Regarding what initially drew the filmmakers to this story, Darg explained it was a dream being able to document someone's redemption story and that getting the opportunity to make a movie that hadn't been done before excited them. "We didn't know if he'd be able to accomplish what he set out to do, so there was a lot of what ifs in the beginning, but we took the gamble and it all paid off," Darg said.
For those who aren't familiar with the backstory … Arquette, a lifelong wrestling fan, won the WCW World Heavyweight title in 2000 to promote the movie he was starring in at the time called "Ready to Rumble." Fans did not respond well to an actor being booked to win the world title, however, and it has long been called one of the worst decisions in wrestling history.
Eighteen years later, Arquette sets off on a journey to change the perception of himself in the wrestling industry in an effort to no longer be considered an outsider in a world he loves.
This doesn't come without some hurdles though, which are seen throughout the film.
One of which includes David getting booked for an event early on in his comeback attempt, only to learn it was a backyard wrestling show for a handful of teenagers.
"We felt like David should start right at the bottom. If you're gonna work your way to the top, you gotta start at the bottom and understand what the journey really is," filmmaker David Darg told us. "But I don't think any of us could've anticipated just how raw and sparsely populated that match would be." Price James added, "We thought at least fifty to one hundred [fans] … then it was six."
David also finds himself training with luchadors in Mexico on his path to redemption and in one scene he's taken to the streets of Tijuana to wrestle in the streets for spare change.
"I didn't even know that street wrestling was a thing," Arquette said of the experience. "I was amazed by these guys, but I thought I was just there to watch and kind of soak it in. Then they were asking me to get in there. They didn't plan anything. They didn't speak english, so I kinda gave the guy a full nelson or something and then hurt his knee. It was a disaster. I felt so bad. Like, what am I doing?! I didn't know what I was supposed to do!"
Diamond Dallas Page also plays a unique role in the film, as he's one of the people who was closely involved with David's WCW run and always defended the role he played in winning the world title.
Regardless, Page was unsure if David could change how wrestling fans would perceive him.
"When he told me this idea, I didn't really see it. To be honest," DDP told us. "But when I saw him putting the work in, and putting the ring in his backyard. And not just gonna go out there and play around. He did some sh*t that I would watch on the internet and go like, 'Wow! That looks pretty good.' He didn't just learn that. Like the crazy sh*t where almost got killed with those crazy deathmatches. That sh*t was just crazy stupid, but it was another thing of earning respect."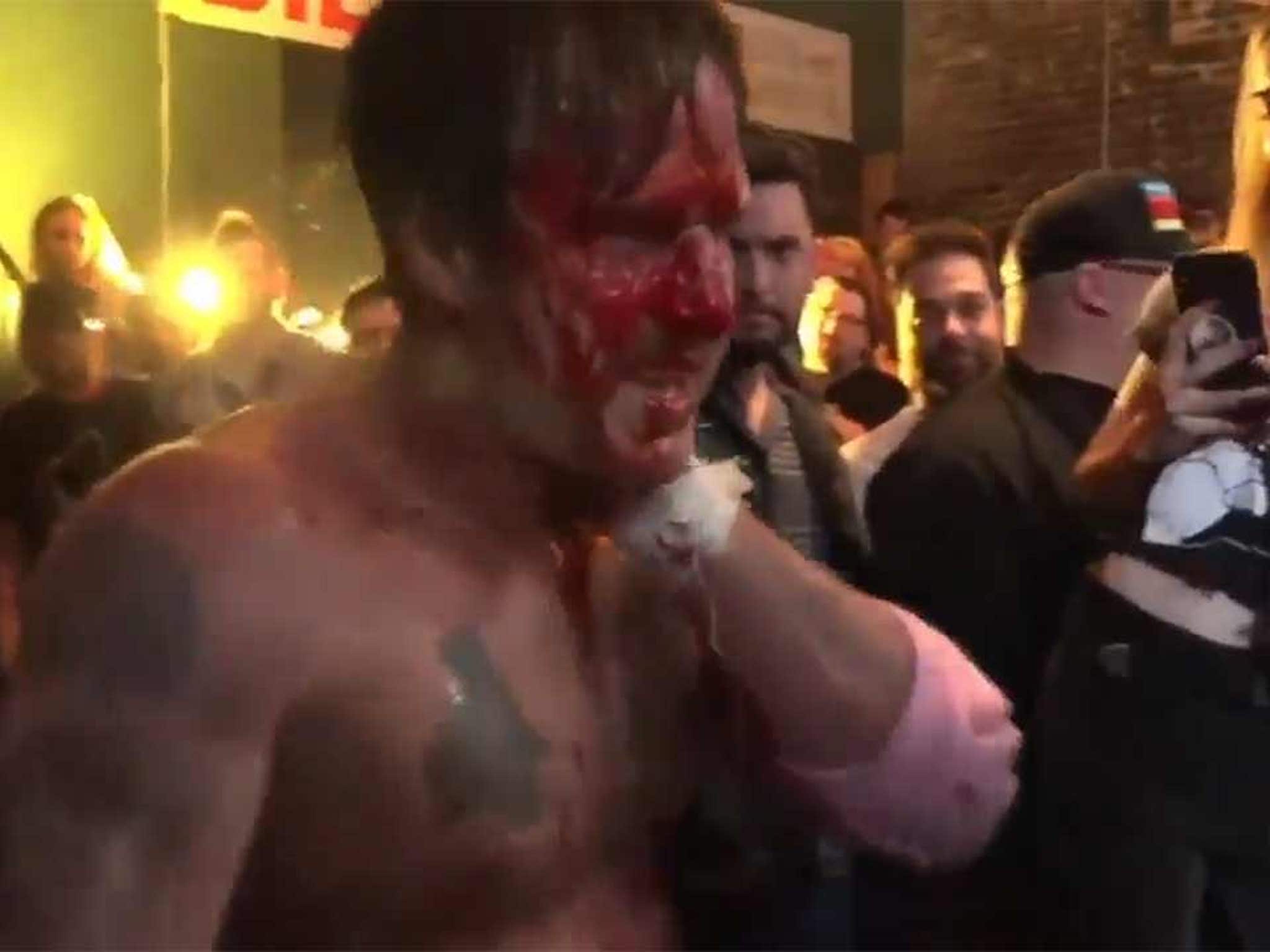 One of the opponents Arquette faces in the movie, RJ City, talked about his dealings with Arquette as well and how he learned of David's injured ribs just days before their scheduled match.
"I get to the house and I'm like, 'Christina, where is he?' And it's like, 'Oh, he's just getting home from Mexico.' Then he comes out of the van holding his ribs and he can barely breathe. And he winces when he coughs! I'm like, 'We're f*cked. What are we gonna do?!?' Then the match was like, how do I get the match that I want to have when there's no rope running, he's not hitting the turnbuckles, there's no back bumps. Like, you want to make this work, but also don't want to kill him, at least too much."
David somehow still makes it work for the show and seeing him fight through the injuries makes their match even more impressive as you watch the film.
The same goes for the other two matches he goes through after, including the Nick Gage/GCW match which shows intense behind the scenes footage of the ordeal.
"You Cannot Kill David Arquette" is currently playing in drive-in theaters and available on VOD.
Watch the full thirty-minute interview below.