Thanksgiving is over … which means it's time to get in the holiday spirit! Here are some cool gift ideas that will surely satisfy any wrestling fan in your life.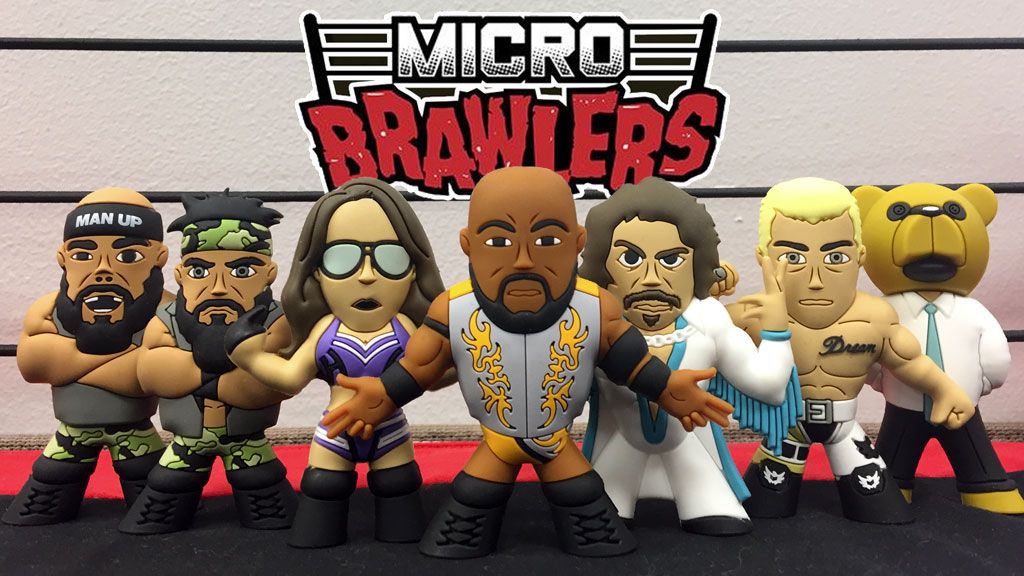 These little figures have overtaken my desks at work and home. Smaller and easier to spread around than normal figures … plus, they're fun to look at while working.
Exclusive brawlers come in the monthly Pro Wrestling Crate, but the company has also started selling them individually — including figures for blonde variant Cody Rhodes, Ricky "The Dragon" Steamboat, British Bulldog, Dalton Castle, Roddy Piper and more.
Good for stocking stuffers and office gift exchanges.
Speaking of Pro Wrestling Crate, this company is by far my favorite of the wrestling crate companies. Each crate comes with 2 exclusively designed shirts, an autographed 8×10 from a wrestler, exclusive Micro Brawler, exclusive collector's pin, DVD and more fun collectibles.
The fun collectibles are (in my opinion) the coolest part of the crates, due to the creativity/thought put into matching the theme of the month.
If that hasn't sold you yet, you can see what was inside of past crates HERE.
Use the code BLACKFRIDAY for 25% off the standard crate.
Deviating from the standard apparel you'll see on other lists are these rad track pants from Chalk Line, who sell officially licensed WWE clothing.
If you want to go full tracksuit baller, the jacket is available HERE.
Perfect for watching WWE Network in the man cave.
JJ Dillon Build-a-Figure Flashback Series – $12.93 each
While were on the subject of WCW … this new set of figures all come with an additional piece that can be used to build a toy of legendary manager JJ Dillon.
Ric Flair includes the hips and legs, Sting includes the arms, Lex Luger includes the torso, and Booker T includes the head.
Plus, the individual action figures themselves look pretty cool!
Found HERE, HERE , HERE & HERE.
WRESTLING BOOKS
Here are a few suggestions:
Young

Bucks Stand Tall

– $16.95; Children's book featuring child versions of The Elite in a story that should inspire young children.

Comic

Book Story of Professional Wrestling

– $18.99; Graphic novel written by Aubrey Sitterson and Chris Moreno which features "the key grapplers, matches, and promotions that shaped this beloved sport and form of entertainment."

King

of Strong Style: 1984 – 2014

– $17.70; English-language autobiography of WWE Superstar Shinsuke Nakamura about his rise to the top of wrestling.
Wrestling Buddies
Two options here:
Superfun 5000 is

selling

wrestling buddies for $25 featuring some of your favorite indie stars like Joey Ryan, Swoggle, Delilah Doom, The Carnies, Gregory Iron, Dick Justice and more.

Ringside

Collectibles is selling

wrestling buddies for the same price. They have exclusive buddies for Woken Matt and Jeff Hardy.
Don't tell New Day, but WWE.com is selling a waffle maker that will make that wrestling fan in your life feel like a champion every time they eat breakfast.
The description says you can also "whip up hash browns, cookies and other snacks on the non-stick plates."
Make sure you buy this for someone who will actually use it.
Otherwise it will sit in that cabinet in their kitchen that no one ever opens.
Measures over 14 inches tall, weighs 6 1/2 pounds, molded from an actual Slammy and comes in the box seen above — which makes it perfect for any desk.
If you've got real money to throw around, buy the person two so they can walk around the house like Owen Hart all the time.
On second thought … maybe don't do that.
Flasks are always a fun, easy gift for your alcohol loving friend. Plus, you'll score bonus points on this one if they also like Chuck Taylor.
If they don't know him … think about getting it anyway. This was mainly added to the list after Chuck tweeted asking people to buy his stuff so he can feed his dog.
This is ideal for anyone who wants to feel what it's like to whack their enemy over the back with a steel chair … but without the consequences.
The company also sells an inflatable 'steel' trash can.
Buy them both together to get extra hardcore this holiday season.
This party game lets you trash talk your opponents as a pro wrestler.
Think Cards Against Humanity-like fun, but with promos.
Help your fellow wrestling fan let their Flair flag fly the next time you gather for a party.
Must-have set for any toy collector! This set is a take on Kurt Angle's famous milk dousing moment and comes with a milk hose, milk cartons and a cooler.
The set also comes with a Stephanie McMahon head that looks wet.
The box itself is shaped to look like the milk truck Angle used during the segment, so it even looks cool if you never take it out of the box like collectors.
This gift works for an old-school wrestling fan who watched during the territory days, or someone up to date with the company in its current form.
Classic design that you can never go wrong sporting.
Cool shirts from WWE Custom Shop
WWE has a new website devoted to customizable shirts and there are some awesome designs hidden amongst the large array of options.
A fun for children thumb wrestling game that will help youngsters get their eyes off a damn phone for once and interact with another human being.
Includes 2 vinyl lucha masks that cover your thumbs and matching decorative capes (of course), a display ring and a championship.
Plus, the whole thing comes with a 48-page guide on the history of lucha libre.
Cheap option with designs like HBK's heart in blue, the GLOW logo, Kairi Sane's elbow drop, Timebomb's jacket, Haitch face and a bunch more for $10 each.
They've also got some cool limited edition shirt designs.
Pro Wrestling Tees recently got into the shoe business with exclusive designs from the Young Bucks, The Road Warriors, Kenny Omega, Cody Rhodes, Roddy Piper and Los Ingobernables de Japon.
The price is a little steep, but you'll surely be getting someone a gift that will help them stand out at wrestling shows in the future.
The description says sizes fit similar to Converse High Top Chuck Taylor All Stars.
Ultimate Warrior was a controversial person before his passing, but there's no denying that he had a large fanbase who still crave his merchandise.
If you're looking to spend a lot of money, this statue from Sideshow Collectibles will surely satisfy the 80s wrestling fan looking for something cool to put on their desk at home or work.
The description reads:
Standing 25" tall, the 1:4 scale Ultimate Warrior Statue captures the action and larger-than-life attitude of the iconic WWE wrestler. He stands on a black podium base emblazoned with his colorful mask logo, with industrial-stylized silver flooring. This detailed polystone statue has been carefully sculpted to showcase the Warrior's immense physique, flexing his muscles and showing off his intimidating presence both in and out of the ring.
That's all for now! Hope this helps you stay out of the mall this holiday season (and get your loved ones some awesome wrestling stuff).