Less than 24 hours after winning the NXT Women's title, Rhea Ripley spoke with Pro Wrestling Sheet about her big moment and how it feels to be champion as 2019 comes to an end.
In case you need a reminder of the monumental year the 23-year-old powerhouse has had, here's a quick recap of what she accomplished.
Ripley kicked off 2019 as NXT UK Women's Champion and appeared in the Women's Royal Rumble in January. After a successful run in the UK, she returned to the main NXT brand over the summer and began a feud with Shayna Baszler that led to her captaining the winning team in the first-ever Women's WarGames match.
She also helped NXT raid Raw and SmackDown during the build to Survivor Series and once again successfully captained her team at the event to score a victory over the other brands.
The crowning accomplishment came last night though, when Rhea ended the 416-day title reign of Shayna Baszler to become the NXT Women's Champion. Ripley not only overcame one of the most dominant women in the history of the brand, but she also got to celebrate afterward with a mosh pit of people she cares about – a stellar way to close out the year.
Now … Rhea Ripley goes into detail about how it felt in the moment, the reaction from Triple H and others in the Gorilla position after the match, having the support of her wrestling idol, where she's vacationing in celebration, who she'd like to defend the title against and more.
---
PRO WRESTLING SHEET: I can't even imagine the roller coaster of emotions you've gone through the past 24 hours. First though, how are you feeling at the moment?
RHEA RIPLEY: Man, it hasn't fully sunk in yet, to be honest. I am excited and I am happy that it's all done and it's all accomplished, and we did it. We main evented NXT on USA Network and I did pull of a victory over Shayna Baszler. So I am excited about that.
I'm obviously tired. That as well. I'm tired. I went to sleep at like 1:30 or 2:00 am because I had so much adrenaline after the match. I tried to watch some TV, ordered some pizza because I was starving. So I'm tired. I just finished at the gym, so now I'm heading home. But yeah, I'm just feeling all the emotions. I'm super super happy.
I pretty much didn't eat all day. I had 2 Uncrustables from when I woke up to 5:30, and that's all I had.
PWS: How did it feel getting that big celebration with everyone at the end of the show after beating Shayna?
RHEA: Just amazing. It's funny, when everyone hopped in the ring and they picked me up, I'm not used to getting picked up. So I was sorta terrified. I was like, 'please don't drop me. I will cry. Don't drop me.' I'm not good with heights as it is, so being picked up is just not a normal feeling for me.
Being in there and having everyone around me jumping while I'm on their shoulders, it felt like I was in a mosh pit. Which is like my home. Where I know I belong. Growing up being in the mosh pit, seeing the band up on stage, I was always so amazed by everything and everything was so cool to me. I always wanted to be in their spot, but I'm not musically gifted like them, so my spot is wrestling.
To be able to get that same feeling in wrestling and to become the NXT Women's Champion, and to have everyone out there with me to make it feel like a mosh pit, I felt right at home. It was amazing.
I actually got up on the corner at one point and I looked back and I saw one of the fans that always comes to all of our shows, Kyle (Florida Wrestling Fan), he was there. I feel very comfortable around him because I see him all the time, he's a familiar face, and I look back and I saw him and he's like, 'CROWD SURF!' And I was like, 'that's a good idea!' Not thinking that there's like kids and stuff in the ring.
But it felt like I was crowd surfing, it was just absolutely amazing. I was in my element, man.
PWS: Who were the first people to greet you in the gorilla position when you walked to the back and what did they have to say about the match?
RHEA: When I walked backstage there was just applause coming from like every angle. There was Triple H, William Regal, Sara Amato and all the girls from the roster.
Just seeing all of them so proud and happy for us was just an amazing, amazing feeling. I can't really put it into words. I guess I was just super, super proud of myself and Shayna for being put into that position and pulling it off. Because that's a hard spot to fill. The boys always do the main events and you don't really see many girl main events, to be honest. To be put into that and to have a championship match with one of the longest reigning champions in NXT history, and to have me pull of a victory against her, and then come back and see all of them smiling and so proud of us … it was just an amazing feeling. I can't describe it. I can't put it into words. It was, just ……. it was heartwarming I guess.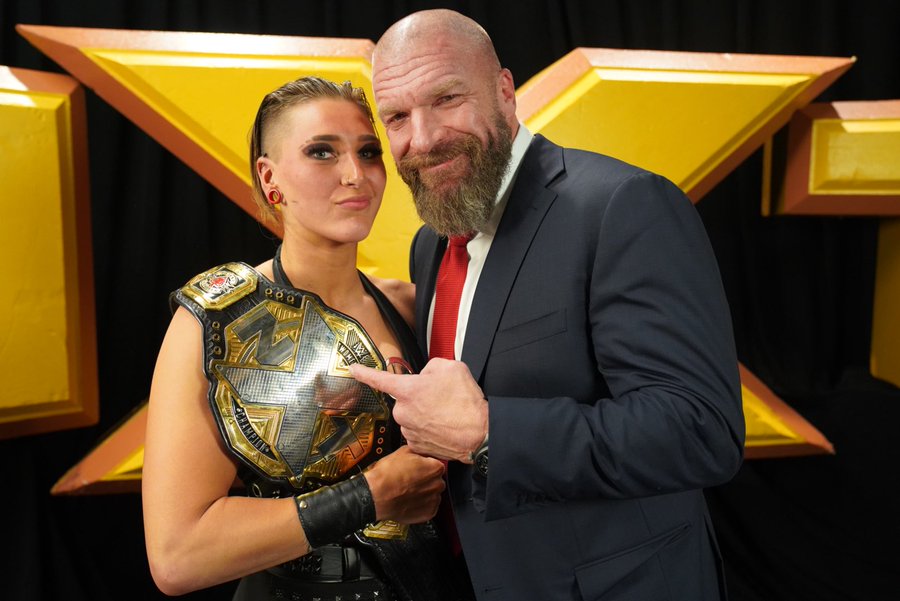 PWS: How wild is it to have the support and backing of Triple H knowing one of his matches is what got you into wrestling?
RHEA: It's so strange. To start watching wrestling because of Triple H, and then get into wrestling because of Triple H, now have him as my boss – someone that believes in me and believes in my skill – it's incredible.
I try not to mark out around him, cause there is still that fan inside of me that is like, 'this is so cool.' And I'm like, 'he's my boss, I have to act normal.' I can't help but have a massive cheesy smile around him. He's the reason that I am where I am for so many different reasons. He's the reason I started wrestling, he's the reason I work for NXT, he's the reason that I am in the spot that I am in. And, man, it's just incredible to see where I've come from and see what I've done along the lines and know that he's been there throughout everything believing in me. And always getting me through it, telling me that I am worth it, and telling me that I can do it, and that I'm amazing at what I do. It's really cool coming from someone like him.
PWS: You've had a stellar year, obviously, first appearing in the Women's Royal Rumble early in the year, then taking part in an NXT invasion angle before Survivor Series and beating Team Raw and SmackDown, as well as winning the first-ever Women's WarGames match and now this … looking back on everything with the year coming to an end, are you able to sit back a little and appreciate how major all of that was – especially for someone your age?
RHEA RIPLEY: I haven't really stopped for, I wanna say, the last two months. So it's been hard to really let it all sink in. But now that I get the holidays off, and I actually get to relax a little bit, I will be taking it in. I'll be sitting on the beach in Puerto Rico thinking about all that I've done this year. I can't wait!
PWS: What do your friends back home say about something like this? You're very young, so some of these people are probably still in college looking at you doing big things in WWE.
RHEA: Dude, it's insane. I've legit got hundreds of messages from last night and I don't even want to start looking at them. I can't. There's so many of them.
I even went on Facebook and I saw posts from my coaches from Riot City Wrestling back home, they were posting the video of me celebrating after the match, writing that they're so proud of me and they're glad they could be a part of my journey and all that stuff like that. It really does warm my heart. It makes me so happy. I love making people proud. It's all I wanna do. It's just something about that that really warms my heart. And then to go on Twitter and stuff and see the fans that have been with me throughout everything from being in NXT UK and holding the NXT UK Women's Championship at the start of this year, to now the end of this year holding the NXT Women's Championship. To see what's happened in just a year and know that the fans see it as well, is just incredible to see them all proud of me and all with me in this ride. It's just, yeah, I can't describe it.
PWS: Now that you're the Women's champion, who are some of the people you'd like to defend your title against in the near future?
RHEA: I really didn't get to face Dakota Kai, to be honest. I didn't really get to get my revenge on her yet. So I wouldn't mind going against her and giving her what she deserves. I let Mia have her shot at her. I want my shot at her now.
Other than that, anyone is capable of coming after me. I'm ready for absolutely everyone. Whoever wants to. If it has to be Mia, if it has to be Bianca, if it has to be Io, if it has to be Candice. Anyone.
PWS: What if it's Shayna looking for a rematch?
RHEA: Bring it, man! I already beat you twice.
---
*INTERVIEW SLIGHTLY EDITED FOR LENGTH AND CLARITY*