Matt Cappotelli sadly passed away this week at the age of 38, but his legacy lives on through family and the students he taught in the ring — including one wrestler who says the "Tough Enough" winner inspired him to continue becoming a church deacon.
When Dalton Moss attended Ohio Valley Wrestling's beginners program as a 28-year-old, he was pretty nervous. Being older, he wasn't going to be like everyone else in the class. He was a father of three. On top of that, he was anxious over the idea of entering sports entertainment as a Christian.
As someone of faith, he worried whether he'd find his place.
And then he met his trainer: Matt Cappotelli.
Over the next few months in 2017, Cappotelli would face his second bout with brain cancer — he won the first round four years after Tough Enough III — but this time it would be much more difficult.
Despite the prognosis, Matt's wife said running beginner's training at OVW helped him have purpose. While he couldn't do what he once did physically, it was difficult to keep Cappotelli out of the ring. Moss says it wasn't uncommon for him to run the ropes and walk through various moves with students. Adding, "He never yelled, never got upset. Matt never seemed to let anything bother him."
Perhaps that's because he knew life's greatest challenges took place outside the ring.  While we can all get caught up in small problems and consumed with negativity, Cappotelli chose positivity — even against insurmountable odds.
According to Moss, Cappotelli excelled as a coach and trainer. His demeanor helped eliminate some of Moss' biggest concerns before venturing into the sport. With Cappotelli, Moss' age wasn't a concern; it was an opportunity for a laugh or two.
"He would give me a hard time about being old which lightened the mood a lot for the younger guys," Moss said. "I remember him commenting on my dropkick. I went nearly last in the drill. I jumped up, threw my dropkick, and he said 'who would have thought the old bearded guy would have the best dropkick.'"
While training under Cappotteli, Dalton quickly learned there WAS a place for a man of faith in wrestling … despite his initial reservations. And it was Matt who showed him that.
"Professional wrestling can be a very lewd, vulgar, and hard business. You don't have to participate in things, but you'll see and hear things everywhere you go that may not sit well with you. Matt understood that," he said.
After winning his first title, one of the first things Moss did was text his trainer to say "thanks."
As he continued to work more dates and shows, he'd share with Matt the many comments he received from promoters who praised his solid fundamentals and foundation. Bookers told him his trainer should be proud.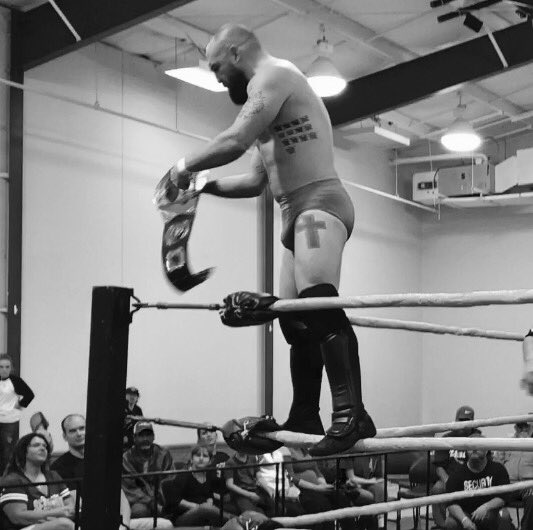 On Friday, Moss learned the devastating news.
"Glad you finally get to go home. Tell Jesus hello for me," he tweeted.
Due to a short career, Cappotelli will likely be remembered most for the great courage with which he fought cancer. He battled to the end and inspired everyone who saw and shared his story.
But let's not diminish the legacy he leaves behind in those he "taught the ropes."
Just as Matt found purpose training them, they find purpose in keeping his legacy alive.
And while that isn't always easy, they know how to confront a challenge. It's how they were taught.
It's just another reason why wrestling is good.