With only hours to go before last week's episode of Dynamite, All Elite Wrestling star Luchasaurus suffered a hamstring injury that caused big changes to the show – and his tag partner Jungle Boy, as well as AEW coach Awesome Kong, talked to us about the hectic scene that ensued.
"That whole day was crazy stressful … that's not how I would've imagined my debut to go," Jungle Boy explained during an interview with Pro Wrestling Sheet.
This was due to his Jurassic Express partner Luchasaurus getting hurt before the show while going over spots for their scheduled match against the Lucha Brothers. A match the two of them had been mapping out for nearly a month with plans to steal the show.
According to Jungle Boy, the injury occurred while Luchasaurus was going over the finish of the match in the ring around 5:30 pm ET. "They went to try something out, a pretty basic thing I guess that you could kinda do whenever, and he said he felt a pop in his leg," the wrestler told us.
In the time that followed, it became clear that Luchasaurus was having trouble walking around and Jungle Boy says he knew this wasn't going to be a good situation.
"I'm not sure if it's a full tear of his hamstring, or if he just strained it," the young wrestler added while noting there was talk of his partner powering through and competing in the match still. However, the decision was ultimately made to replace him with Marko Stunt.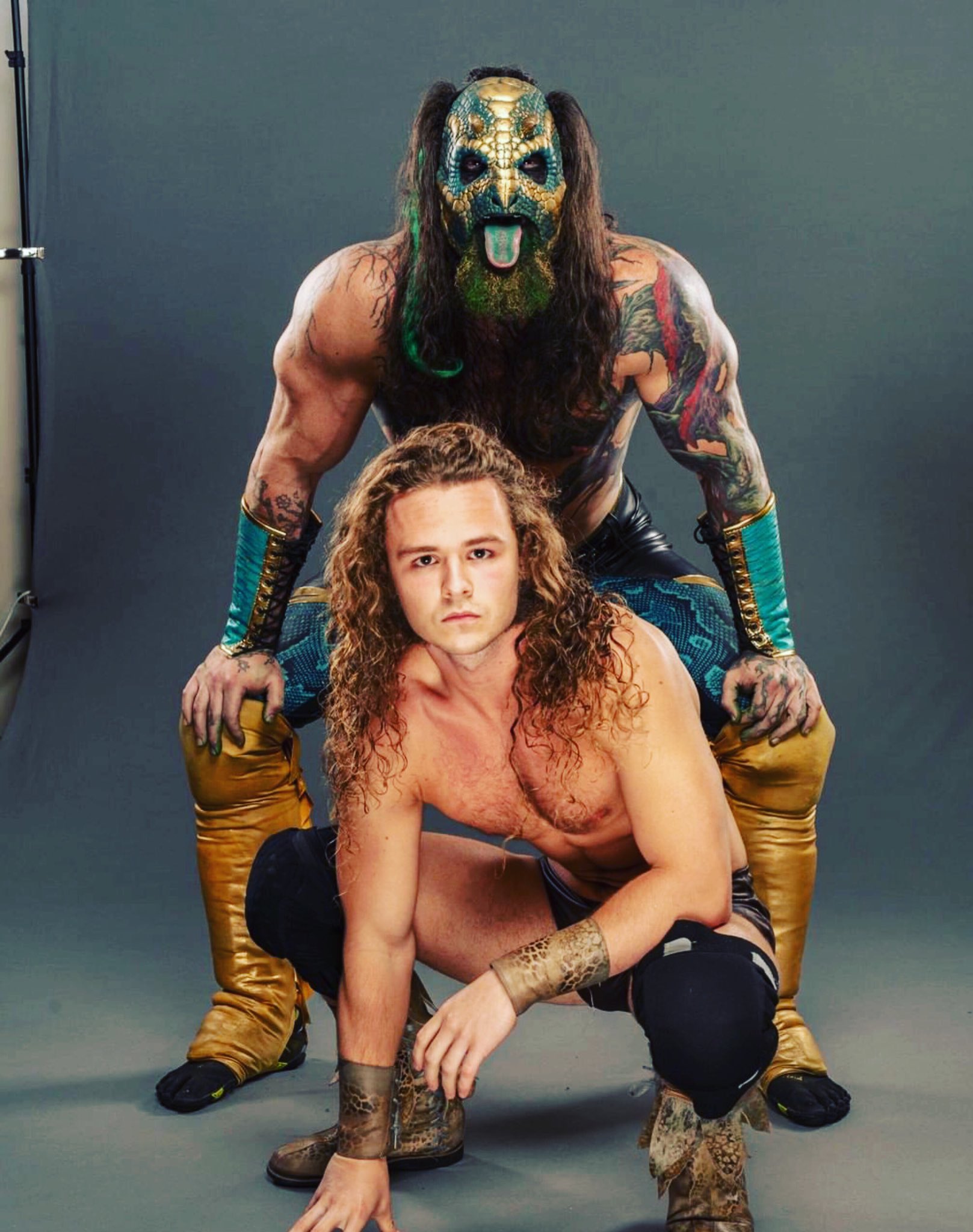 As for the backstage drama that ensued, AEW coach Awesome Kong – aka Kia Stevens – says it was initially quite a scene. "For about ten to fifteen minutes it was like pandemonium backstage because the whole structure of the show changed," she explained to us.
Kong then described how the coaches immediately began brainstorming how to make the show work and were still throwing out ideas as fans were walking into the arena. "But everyone went with the flow, jumped on the team, and ideas flew, decisions were made and we put on a show. And it was a really good show!"
Jungle Boy also touched on the current debate in wrestling over the size of his partner Marko Stunt.
"I think Marko being so small, I think it maybe makes a lot of people feel not great about themselves," he said of the negative reactions to Marko wrestling in AEW.
"I say that because I think there's this kind of attitude in life that bigger and all of that is better. I think for him to be his size, which in a way would hold him back a lot, but he's out there doing what so many people have dreamed of doing and they've never been able to do it," he continued.
"I think that kinda just adds a little bit of insult to injury, in their minds I guess. I get it, but at the same time it's not anything that he has control over," Jungle Boy stated. "I'm super proud of him. I think if you can get past that, I think everybody should be super proud of him. Because not only is he doing something – that for anybody is a huge thing, a scary thing – he's doing it his way with what he's had to deal with."
All Elite Wrestling: Dynamite airs LIVE on TNT every Wednesday night at 8pm ET.
Watch the interview below for the full 20-minute conversation.