Pro Wrestling Sheet spoke with Johnny Gargano ahead of his match Wednesday night to gain some insight into what we can expect from "One Final Beat" with Tommaso Ciampa.
Gargano and Ciampa have been involved with each other in NXT in some way or another since 2015. Tomorrow night, however, their long and layered storyline comes to an end when they face-off on USA Network in what's being dubbed "Blackheart vs. Rebel Heart: One Final Beat."
The description for the match is as follows:
"Triple H will give them an empty building with a ring inside and a referee. Two men will enter, and one will stand tall, determining who is the true heart and soul of NXT. But The Game made one thing clear: This is it. If they engage again following this battle, they will both be gone from NXT."
Beyond that description, not much is known about their pre-taped encounter. But just days removed from WWE's Boneyard and Firefly Fun House matches, interest regarding another contest filmed at a closed-set location is high. Especially considering many of the people who helped produce the well-received Boneyard match work at the Performance Center.
Read the interview below for more from Johnny on how "One Final Beat" will differ from WWE's other recent cinematic offerings, why he stopped Ciampa from regaining "Goldie," no longer feeling like he's an underdog, Killer Kross interrupting his recent TV segment and more.
---
Pro Wrestling Sheet: Before we talk about your upcoming match, I first want to talk about your opponent for anyone reading this who might not be caught up. Can you explain what your main gripe with Tommaso Ciampa has been as of late since you had kinda seemed to patch things up prior to a few weeks ago.
Johnny Gargano: Yes, I can definitely explain what my main gripe is. So, let's talk about the obvious here. Tommaso Ciampa is the worst person in NXT history. That's plain and simple.
Six months ago this guy is universally hated. Everyone hates Tommaso Ciampa. He is making everyone's life a living hell. He was the NXT Champion more than a year ago at this point. Over a year ago, everyone hates him. He's the worst person in the world, blah blah blah. He breaks his neck. He has a baby. Comes back six months later. Now everyone loves him? Now everyone thinks Tommaso Ciampa's the greatest?!
I sat at home during Survivor Series, hurt, and I watched everyone chant "Daddy's home." I watched Mauro Ranallo say that he leads the black and gold brand? I watch everyone go crazy over Tommaso Ciampa now? And he makes his big return, people want to see him become NXT Champion again?! People are going crazy because he gets a match with Adam Cole and he gets a chance to get his life back. He gets "Goldie" back?!
He never apologized to me. He never redeemed himself. The only time I saw him is when he came out at TakeOver: New York and took my moment away! He made it about himself. He hobbled out there with his neck brace on, made about it himself. That was my moment to finally have the NXT Championship that I'd worked hard for. Made it about himself.
NEVER apologized. NEVER been redeemed.
But, Johnny Gargano being the good guy that he is, I have a great relationship with the fans. That's me. Johnny Wrestling, that's who I am. They love Johnny Wrestling. We are hand-in-hand. I trust them. So maybe I thought that I was a little jaded. Maybe I'm wrong? I can accept that if I'm wrong. I can accept that maybe they see something that I don't.
So I took their word for it. They chant "Daddy's home" and they think that this guy is a different guy. Maybe he is? That's why I brought back DIY. That's why I teamed with this man again. That's why I was his friend again. Because you don't think I want my best friend back?! You don't think I want to have my friend back that I think died in Chicago years ago?! I want that guy back. Of course I do. So I brought it back and what happens? I come out in Portland and I come out to support him. To watch my friend get his life back. But you know what I saw? People show their true colors when they're desperate. I looked in that man's eyes and I saw the truth. Only a truth that I would know. Only a look that I would know. Only a look I saw in Chicago years ago.
That he's a snake, he's a liar and he can't be trusted.
He would've turned on me the minute he won that title. He would've turned on all the fans and they are too stupid to see it. So I fixed their mistake. I let that man become NXT Champion once. I wasn't gonna let it happen again. That's why on Wednesday, I'm going to expose him and show everyone what kind of monster he really is. And I'm gonna show everyone that Johnny Gargano is the better man.
Simple as that.
PWS: That makes sense to me. When he came back, I'll admit I kinda felt the same way while everyone was cheering for him like he was a good guy.
JG: DO PEOPLE NOT REMEMBER WHEN HE WENT INTO A GRANDMA'S FACE AND YELLED AT HER IN THE FRONT ROW?!
People don't remember that?
They don't remember when he did horrible things to me and Candice? Did horrible things to Velveteen Dream? Did horrible things to Aleister Black? Did horrible things to the NXT fans?
WORST PERSON IN NXT HISTORY!
Did nothing! Had a baby. He didn't even give birth to that baby! Had a baby. Why is this man redeemed?! He went through nothing. His wife did all the work! He did nothing. He sat there and watched. I don't get it. Don't applaud this man.
PWS: The sit-down interview you did with Mauro Ranallo was not the typical interview segment we see on NXT and was very well-received by fans. How has it felt for you getting to show a different side of your character?
JG: Honestly, I'm super excited. I'm so excited. Because, you gotta think, I've done the same thing on NXT since I've been there. Since the beginning I have been lovable underdog Johnny Gargano and I have been pigeonholed as this lovable underdog. Everyone says, "Oh, he is the best babyface of a generation! Love this Johnny Gargano that does that!" Guys, I haven't been an underdog since … I've main evented more TakeOvers than anyone. First Triple-Crown champion in NXT history. Kinda hard to be the underdog when you're the most-decorated man in the company. And, honestly, I've been received that way.
I'm not an underdog anymore. That time is well-gone. So to get a chance to do this new thing, show this new side of my character, to kinda create these new things. Things that I am very excited for. Because you gotta think, I've put more thoughts into this than a lot of people. I've sat back and I've found so many different things. So many new things that I'm excited to do and try out. That's why this needed to happen. That's why me and Tommaso needed to happen. It needed to end so we can both move on. The only way that I can move on, the only way I can evolve, the only way I can change is to put Tommaso Ciampa behind me this way.
So, for me, I am so excited. I feel like my creative energy is sparked again. I feel like my wheels have been turning for a long time. I've been doing the same thing for a long time, but I think the world is gonna see a new Johnny Gargano. A revitalized Johnny Gargano. A reimagined Johnny Gargano. And it's something that I am personally very excited for.
PWS: So with all of that in mind, and Triple H saying that tomorrow's match between you and Ciampa will be the final beat in your long-standing rivalry … how important is it for you to end things on top?
JG: I have to. There's no way around it. I have to.
For me to be everything I say I am, for me to be the guy that I say I am, I have to beat Tommaso Ciampa. I need to expose him to the world. I need to show everyone that he's a monster. And I need to show everyone that Johnny Gargano is the better man. I believe I'm the better man. Everyone should know I'm the better man.
At this point: I won the Cruiserweight Classic match. I won the match in New Orleans. He won the match in Chicago. He won the match in Brooklyn. So we're tied two to two.
I said Johnny in five. That's what's going to happen. Johnny in five. And I think the way this match is going to end is going to be very important for who I am as a character, who I am as a person, who I am going forward.
PWS: Speaking of those classic matches you referenced, do you feel added pressure to top your previous encounters with this last chapter? And if so, is it hard to do that with no fans in attendance in a random building you're not familiar with?
JG: Yeah. It's hard, man. You almost gotta look at this thing as if it's its own beast. Its own monster. Its own entity. You can't compare any of our matches. I think every one of our matches lives on its own in itself anyway.
Our Cruiserweight Classic match is very special because that was kind of the first taste of what Johnny Gargano vs. Tommaso Ciampa could be.
I think our match in New Orleans, our epic encounter, our un-sanctioned match is something that's gonna live by itself.
I think our Street Fight in Chicago, I think our Last Man Standing match in Brooklyn, I think each one holds a special place on its own. So I'm not looking for this to top anything. I'm looking for this to be a match that people can sit back, they can watch and they can enjoy at a time like this. It can put a smile on their face.
I talk all the time about rewarding the loyal viewer. I think if you've been watching this story, if you're a fan of this story … even if you're not a fan of this or even if you're sick of us by now … if you're a fan, if you've been along for this ride at all, I think you are going to be rewarded tomorrow night on the USA Network.
PWS: Your match tomorrow is the third of WWE's recent matches which were filmed outside of the Performance Center – the other two being the Boneyard Match and the Firefly Fun House – can you say how the match between you and Ciampa might differ from those in terms of how it's going to be presented on TV?
JG: The Firefly Fun House match … I'll say this, it was awesome! It was freaking awesome. People are so split now on these types of matches, whether it be the Boneyard match or the Firefly Fun House match, but I think it is obviously the next evolution of what we're doing here. Of what kinda art we can present. And honestly, in this day and age, I think it's very much so needed.
I don't know how many empty arena matches you can have. How many empty arena matches you can watch and not feel like your wheels are spinning here. So I think it is definitely going to be unique.
I will say this … it is not like the Boneyard match. It is not like the Firefly Fun House match. There's obviously certain elements that can be implemented from both, but this thing lives on its own. It's its own monster. It is incredibly unique. It is incredibly special. But one thing I will say about it, is it is incredibly physical. It will be physical. When you have me and Tommaso, we are physical.
I promise you, everything does hurt way more when there's no people around too. I promise you guys that! No audience keeping you going.
But everything you see is gritty. It's dirty. It's real. It's authentic. And that is what me and Tommaso are all about, that realness. That authenticity and that physicality. So if you're looking for a physical fight, you're gonna get a physical fight.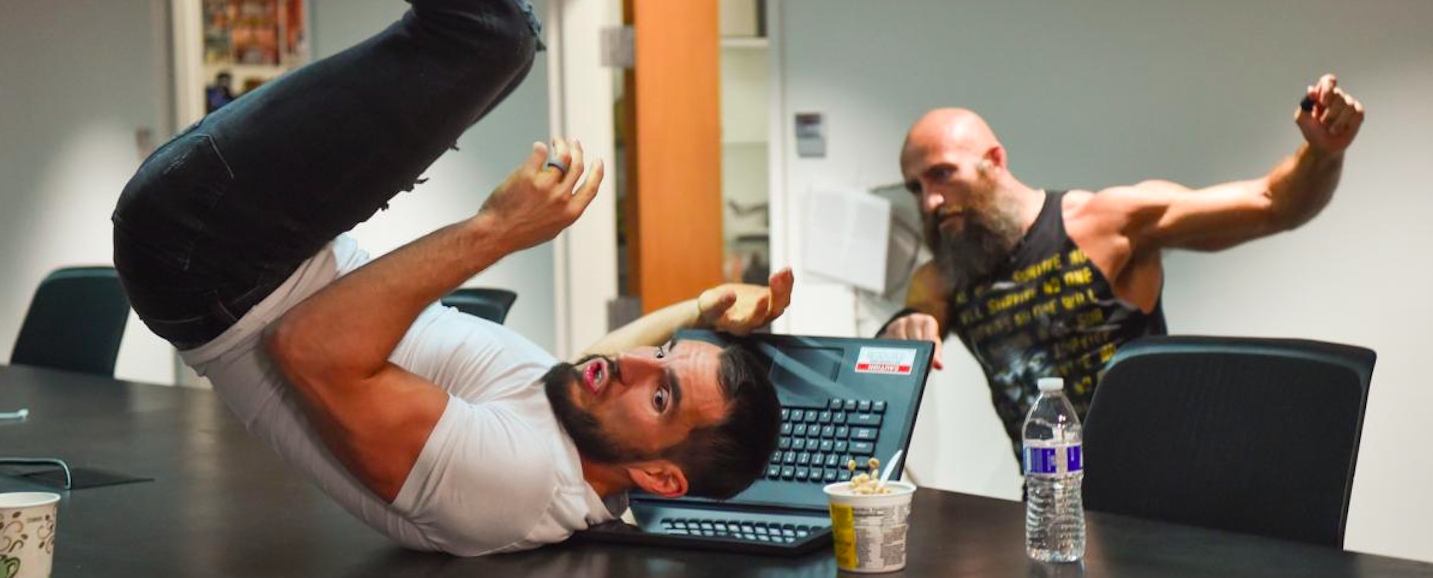 PWS: Talking about things getting physical when you and Tommaso are around each other, the two of you had a pretty brutal brawl around the Performance Center recently. Then over the weekend we saw Edge and Randy Orton do a longer version of that at WrestleMania during their Last Man Standing match. What did you think of their match?
JG: I loved their match. I think for Edge being able to come back and put in a 40+ minute performance after years of being on the shelf, I think that says a lot about the guy he is. Those two guys right there, Randy Orton and Edge, are two of the best going today. They're absolutely incredible. And they're two guys who are incredibly giving.
I know if I've ever had a question, if I've ever needed anything, if I ever need any advice on anything, Randy Orton and Edge are two guys I can reach out to and I can ask advice for and they're more than giving. And more than supportive of guys like me of our generation. Supportive of NXT. Supportive of our style. And they get it.
I think you can say that about a lot of guys who were very successful. You can say that about the Cenas, the Ortons, the Edges, the Shawn Michaels, the Triple Hs. They are incredibly open to what we do nowadays and they're always looking to adapt and add their own spin on it. And I think that is what makes them good. I shouldn't say good. That's what makes them great.
They're able to adapt, take the new age style and make it their own. And I think Edge and Orton … they put in time, man. They went hard and made the best of a bad scenario.
PWS: During your last face-to-face with Tommaso Ciampa moderated by Triple H, you guys were interrupted by a video hyping the impending arrival of recent NXT signee Killer Kross. What did you think about someone like that inserting himself into your guys situation and would you like to get in the ring with Kross once things between you and Ciampa are finished?
JG: Right now I'm solely focused on one bald guy with facial hair.
I don't know if the other one wants to insert himself, but kudos to him. To try and make his name at the expense of me or Tommaso, give him credit. If you want to come into NXT, try to make a name for yourself, you want to head for the top. And we're two of the guys to go after.
I'm not really sure what to make of his video presentation. I guess we'll see going forward what that means for either me or Tommaso? I know it's very interesting. It is very different.
Look … NXT is already filled with some of the most talented guys in the world. People will be talking about me and Tommaso this Wednesday night and be excited for me and Tommaso this Wednesday night, but they should also be super excited for the women's ladder match which is going to be absolutely incredible. Candice, Tegan, Dakota, Mia, Chelsea, and Io. Those six girls, I'd put them against any girls in the world. Not even girls. I'd put them up against any wrestler in the world. They're incredibly talented and I think they have potential to steal the show on Wednesday night from me and Tommaso. And I'm totally fine if they do. They're the best. Our locker room is so talented.
PWS: I've seen Candice in a ladder match, so I know what she can do in one of those. So I'm excited for it.
JG: Candice has been waiting and dreaming to have a ladder match in WWE for a long, long time. That was her dream match. And, obviously, she pictured it a little differently. She pictured people being there and things didn't go that way, but she obviously made the best of it.
We're from the indies. So we're used to wrestling in front of five people anyway. We've done stupider stuff for less people, so I'll say that.
PWS: She's gonna kill it. I have a feeling they'll be on par with you guys for sure. Lastly, to wrap things up, Triple H threatened that you and Tommaso would both be done in NXT if you don't move on from each other after this match. Do you plan to abide by that?
JG: This match is called "The Final Chapter" for a reason.
I have "NXT for Life" on a t-shirt. I think that's pretty abiding. I can't go against the shirt! So if I want to stay in NXT, it looks like this is the final chapter. And this does need to be the final chapter. For both of us to move on it needs to end this way. It needs to end. And I don't think it could end a better way.
Me and Tommaso's whole story, we were never handed anything. We started from the ground up. We were two guys who weren't even given contracts our first days. We had to scratch and claw and fight for everything we got. So it makes sense that we're not handed anything here. We're given a warehouse, we're given a ring, we're given a referee, we're given a camera crew, and we're told to go have at it.
That is the story of me and Tommaso. You can talk about our whole rivalry. You can talk about how we were supposed to move on after the ladder match, but Tommaso tore his ACL. We were supposed to go WrestleMania weekend last year, but Tommaso broke his neck. We were supposed to have a big match in Tampa this year, but a pandemic happened.
We make the best of things, man. That's what we do. That's what we've been lucky enough to do and Wednesday night we are going to make the best of it. We're going to give people something to talk about, something to take their mind off of what's going on in the world. And honestly, I just want to give people a reason to look forward to Wednesday night. I want to give them a TakeOver on Wednesday night cause I wake up every morning and I don't even know what day it is anymore.
So at least now people can say, "Oh, it's Wednesday, tonight is TakeOver!" That is something I am excited for. And I think if you're gonna watch the show tomorrow, I promise you're going to want to see it as it's happening … cause you're not going to want to be spoiled about this one.
"Blackheart vs. Rebel Heart: One Final Beat" takes place Wednesday night on USA Network at 8pm ET.
---
*INTERVIEW SLIGHTLY EDITED FOR LENGTH AND CLARITY*