Educated Guessing is back and taking it to the EXTREME for Extreme Rules!
With only one hardcore match, this show is leaving a bit to be desired in the "extreme" department. We've got TWELVE matches to run down, however, so lets not waste anymore time.
The Aeropostale Kickoff Show

Andrade "Cien" Almas vs Sin Cara
Admittedly, I am a bit sad they are just putting this on the kickoff show.
After pumping the brakes numerous times on Cien's actual debut, we finally got to see him in action against Sin Cara this past Tuesday on Smackdown and it was a HELL of a match. So good, in fact, WWE brass gave them a spot on the PPV pre-show.
If this match is as impressive as the last, Andrade will be on the main card in no time. For now though, expect him to win on the kickoff show.
Educated Guess: Andrade "Cien" Almas
The New Day vs SAnitY – Tables Match
Putting these two teams on the kickoff — even with it being SAnitY's first outing on PPV — was the right decision. Plus, making it a tables match instantly allows for more creativity.
I would actually love to watch New Day get destroyed and all three members be put through tables. SAnitY needs a little bit more gas in the tank to get the reputation WWE wants them to have.
Certainly a destructive win would help.
Educated Guess: SAnitY
Main Card
Finn Balor vs Constable Baron Corbin
How is this the match I am least excited for on the card?!?
This actually speaks volumes to the work WWE has put in over the last month making a solid card from top-to-bottom, because this is the one match I could have done without. It's also one of the more confusing matches on the show, as both guys are walking in with half-decent momentum.
At the end of the day, however, Corbin has the same position whether he wins or loses.
Balor could use some momentum.
Educated Guess: Finn Balor

Braun Strowman vs Kevin Owens – Cage Match
Braun Strowman has TERRORIZED Kevin Owens non-stop for the past two months, yet now they've been placed in a cage together. Is WWE making a misdirection play with Owens here?
Does a shocker happen and Kevin actually escape first?!?
I'm going to pick the monster as the safe bet, but I was super-tempted to choose KO and won't be surprised if he somehow pulls off a win.
Educated Guess: Braun Strowman
Raw Tag Team Championship
Matt Hardy & Bray Wyatt (C) vs The B-Team
I don't mind this match being on the card, because hopefully it leads to the ending we all deserve.
The B-Team cosplaying as the Deleters of World's for the past few weeks has been fantastic. Fans have presumed that this would be the way we get to the second WWE "Ultimate Deletion" match on the Hardy Compound and this appears to be the setup for it.
Unfortunately, this match is probably going to be doing some wheel spinning to get there.
Educated Guess: Double Count Out – No Winner
United States Championship
Jeff Hardy (C) vs Shinsuke Nakamura
Will we FINALLY Shinsuke hold a title on the main roster? I think so.
Jeff has been a great champion so far, but Smackdown needs Nakamura to be the massive star he can be. The first step in that is giving Shinsuke the United States title and starting a long run.
Educated Guess: Shinsuke Nakamura
Smackdown Tag Team Championship
The Bludgeon Brothers (C) vs Team Hell No
When trying to figure out what they'll do with this one, I keep rolling back to one key date — August 2nd. Thats the day that Glenn "Kane" Jacobs faces off against Linda Haney for Knox County Mayor.
This is right in the heat of SummerSlam season.
Team Hell No getting back together is already a great story, but I wouldn't put it past WWE to give Kane a title run so that he can be advertised as the first contracted wrestler to hold a seat in (local) government while in the midst of a tag team championship reign.
Educated Guess: Team Hell No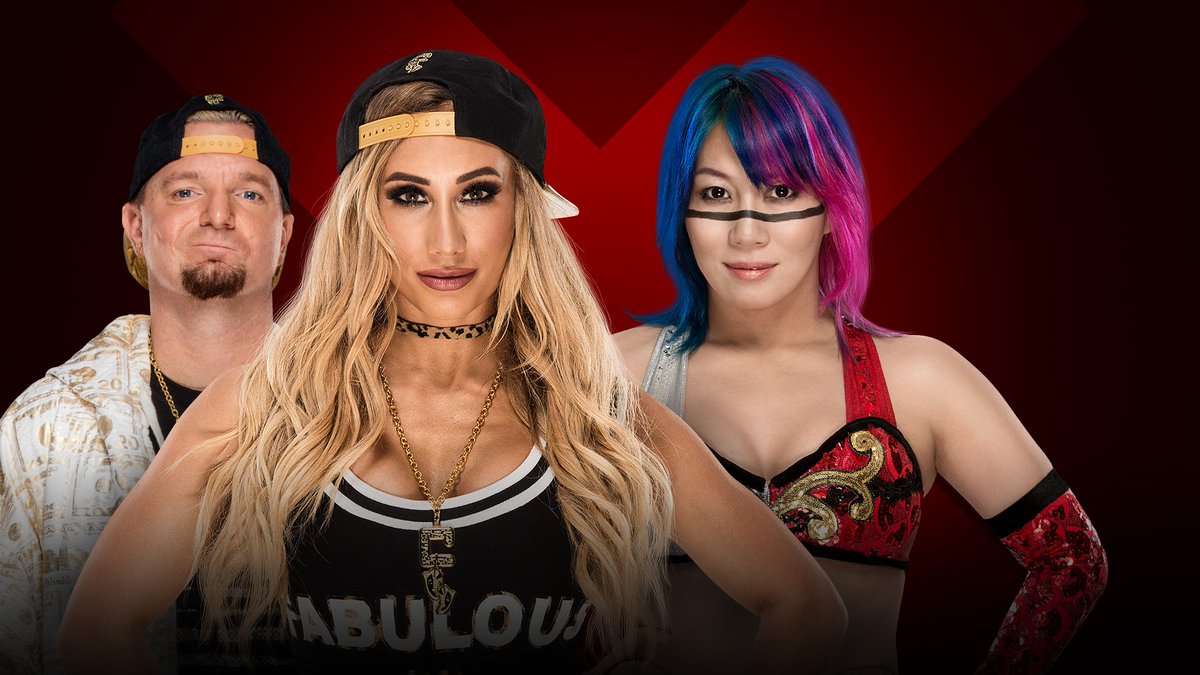 Smackdown Women's Championship – James Ellsworth Suspended Above the Ring in a Shark Cage
Carmella (C) vs Asuka
I love that WWE continues to make attempts at convincing us the best way to keep someone out of a match is by suspending them above the ring.
Asuka has had Ellsworth's number for weeks, but they keep having her lose big ticket matches due to interference. I am expecting no different here. Especially with SummerSlam right around the corner.
Educated Guess: Carmella
Raw Women's Championship – Extreme Rules Match
Alexa Bliss (C) vs Nia Jax
We're finally SO close to Ronda's "suspension" being lifted and her getting back in the ring. So close, that she's going to be front row at the PPV on Sunday night.
This match has a lot of potential to be a show stealer if done right. Long story short, WWE knows Ronda has already faced Nia Jax and Alexa Bliss is primed for a beatdown. I don't see anything changing hands … but I do see an Alexa/Rousey showdown happening and I cannot wait.
Educated Guess: Alexa Bliss
Intercontinental Championship – 30 Minute Iron Man Match
Dolph Ziggler (C) vs Seth Rollins
I am weirdly excited to see these gents get a dedicated half hour towards destroying each other. Also getting the feeling that this match isn't the end of a feud for them, not by a long shot.
I am leaning towards Seth on this one, strictly because it's more interesting. It ups his "title count," without feeling too manufactured, and allows a nice exchange to happen between the two. This also gives way for a "rubber match" to occur at SummerSlam.
Either way, I'm expecting Rollins to win back his championship.
Educated Guess: Seth Rollins
WWE Championship
AJ Styles (C) vs Rusev
Oh sweet boy, Rusev. I love him to death and its amazing to see him finally in a position where he's in the championship scene.
However … you're actually insane if you think WWE is letting AJ Styles, their biggest cash cow at the moment, drop the title before SummerSlam.
Rusev, you might have Rusev Day- but it's AJ Styles night on Sunday.
Educated Guess: AJ Styles
Roman Reigns vs Bobby Lashley
I have a feeling I know why this one is on last. People keep asking why this would main event the show without a title being involved, and I think there's one VERY big reason for it.
Brock Lesnar.
I am at the point where I don't even think this match will have an actual winner.
Both men have talked an enormous amount of trash about Brock in the past few weeks and to think he wouldn't be a part of SummerSlam is just insane. I wouldn't doubt for a second that WWE establishes Brock vs Roman vs Bob to close out the show.
Educated Guess: None (technically Brock if we're counting insane beatdowns)
Agree? Disagree? Vehemently oppose? Sound off in the comments!